ABOUT ABC
ABC [Artists' Books Cooperative] is an international group of artists, publishers, and educators seeking to create, engage, and experiment with the form of the book, and to foster alternative forms of distribution through collaboration. As well as working on our own practices, we work together to produce collective projects. Centered on book fairs and our online forum, we aim to develop a growing international network of artists.
We welcome enquiries and expressions of interest in membership. Send us an email or come and talk to us.
Click
here
for a list of members with links to their websites, and
here
for a selection of videos describing our various activities.
Membership

ABC is an informal association of equitable members who each contribute annually (currently 100 Euros) to share the cost of taking booths at book fairs and producing group projects. The cooperative grows by voting. If you would like to become a part of the ABC network, please apply with the following information
here
:
A short introduction to your practice and central interests, with reasons for wishing to join ABC.

A portfolio, as a pdf or as a link to your website.
ABC Days, 2020

At the invitation of Wil van Iersel, twenty-nine international artists each produced a book on a chosen day between June and July 2020. The theme and content of each book was open to each artist; be it a diary, a sketch book, a reflection on these strange times, work made during the lockdown, or a response to the Black Lives Matter demonstrations against police brutality and white privilege. The only condition was for the book to be uploaded to the web on the chosen day.
Twenty-nine digitally printed books, colour.
Each volume 17 x 24 cm / 48 - 64 pages.
Box set available in an edition of 29.
Edition of 29: US$600 / £440 / 500€
Buy ABC Days
With contributions by Alaa Mansour (LB), Bruno Zhu (PT), Corinne Vionnet (CH), David Horvitz (US), David Schulz (US), Dawn Kim (US), Duncan Wooldridge (UK), EJ Major (UK), Hermann Zschiegner (US), Jack Halten Fahnestock (US), Jan van der Til (NL), John Maclean (UK), Jonathan Bragdon (US), Jonathan Lewis (UK), Jonathan Schmidt-Ott (DE), Kurt Caviezel (CH), Lotte Schröder (NL), Louis Porter (UK), Micheál O'Connell [Mocksim] (IE), Mishka Henner (UK/FR), Mohini Chandra (UK), Monika Orpik (PL), Ofer Wolberger (US), Penelope Umbrico (US), Rahel Zoller (DE/UK), Studio The Future (NL), Sveinn Fannar Jóhannsson (NO/IS), Travis Shaffer (US), Wil van Iersel (NL)

Clockwise from left to right: Lotte Schröder, June 23, 2020 / Ofer Wolberger, June 16, 2020 / Hermann Zschiegner, June 15, 2020 / Mohini Chandra, July 7, 2020 / Penelope Umbrico, July 1, 2020 / Monika Orpik, July 5, 2020

ABC Days was supported by the AFK (Amsterdam Fund for the Arts).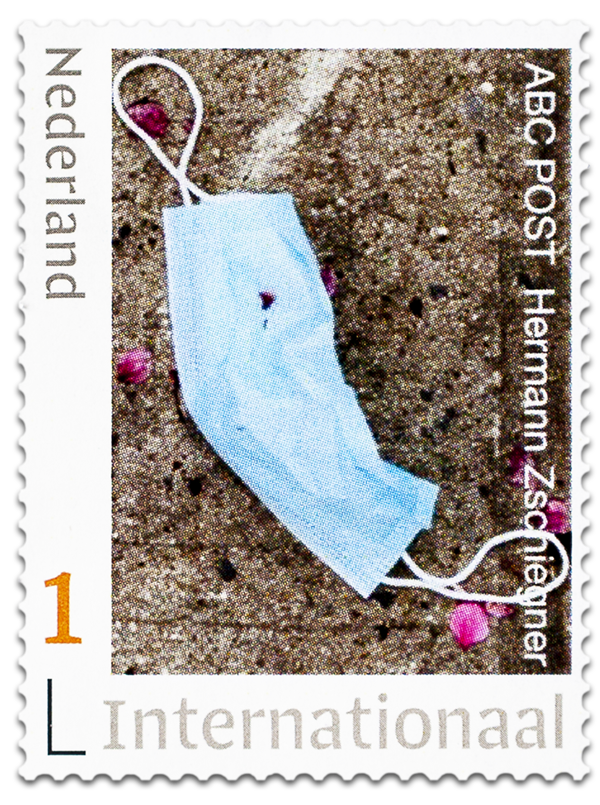 ABC Post, 2020
During the early months of the 2020 pandemic, we looked for meaningful ways to reach out and decided on a postcard campaign, with each member producing a print-on-demand stamp affixed to a card and sent out to family, friends, colleagues and the book fair visitors we missed.
Eighteen sheets each with five stamps
17x12 cm / Printed by
Post.nl
Open edition: US$300 / £220 / €250
ABC Post Online
/
Buy ABC Post
With stamps by Corinne Vionnet (CH), David Schulz (US), Dawn Kim (US), Duncan Wooldridge (UK), EJ Major (UK), Eric Doeringer (US), Hermann Zschiegner (US), John Maclean (UK), Jonathan Lewis (UK), Jonathan Schmidt-Ott (DE), Louis Porter (UK), Micheál O'Connell [Mocksim] (IR), Mishka Henner (UK/FR), Paul Soulellis (US), Oliver Griffin (UK), Rahel Zoller (DE/UK), Travis Shaffer (US), and Wil van Iersel (NL)